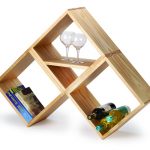 This simple modular shelf offers plenty of options for reconfiguration.
By Tom Nunlist
Pages 58-59
One symptom of my pervasive early 20s restlessness is that I regularly overhaul my apartment, completely rearranging the furniture and décor once a month or so. It's not so much that I can't settle on a suitable arrangement, but that suitability itself has a rather short shelf life. As such, I've become a huge fan of modular furniture design. Always eager to assume multiple roles, furniture of this kind wants to be rearranged just as much as I want to rearange it.
That's what inspired me to design my inaugural project for the magazine (with help from Robert W. Lang, executive editor). This bookshelf/wine rack will help solve a problem common to evenings spent beside the hearth – whether to drink or read – by gently encouraging both. The shelf can also be reoriented to sit in a standard position, and allows for expansion by building additional modules as you like.
At the home center, I picked up two 8′ lengths of 1″x10″ yellow pine. Because the boards are cut down to short lengths for the sides of the box modules, there's no need to fret if the lumber you find has a bit of a bow or twist (a problem common to big-box lumber); imperfections will be worked out during construction.