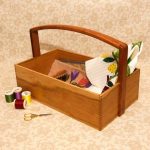 An elegant exercise in bent lamination and joinery.
by Bill Heidt
pgs. 39-43
When I started taking woodworking classes, I needed a convenient way to carry my tools. After looking for just the right toolbox, I decided to design something to meet my specific needs with some elements of style and craftsmanship to make it fun to build and use.
I was inspired by a tool tote made by my grandfather, who was a great mechanic and woodworker, and an inspiration to me. I use his tote to this day around the house to organize tools for all the endless repairs, but it's a little too small for transporting my stuff to an off-site project or class.
I quickly outgrew the first tote I made, so I modified it by fitting it with a riser with drawers. Soon after, I needed a way to organize and transport my small drill/driver and installation tools and another tote was born. My goal was to follow the design theme of the first tote, especially the handle, but customize it for its intended use.
My wife has always liked the totes and asked me to make one for her to carry small projects when she goes to her friends' houses to quilt. I wanted to maintain the same design theme for hers, but a tote to carry fabric and small sewing supplies didn't need to be as heavy-duty. So I made the handle lighter and used thinner material for sides and bottom.
Article: Make a micro-adjustable jig for cutting finger joints on the table saw.
Blog: Build a simple tool tote with your kids in this 2-part post from Yoav Liberman.
In Our Store: "Build 25 Beautiful Boxes," by Doug Stowe.
To Buy: Build Roy Underhill's iconic tool tote – you'll find it on video "The Woodwright's Shop: In the Shop with Roy."