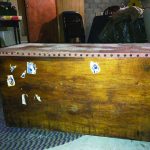 I do not stem from woodworking lineage, at least not the kind you hear about. My dad wasn't overly handy. While growing up, I recall most things either went unfixed or someone else was called to remedy the situation.
My grandfather worked as a maintenance man fixing this or that. Generally speaking though, grandpa was more of a frugal DIYer than a fine craftsman.
Nonetheless, their hearts were always in the right place and sometime in the early 1970s, they both set forth to cobble together a toy chest for my siblings. Over the years, the chest held action figures, dolls, baseball cards and most likely someone's illegal stash. It moved from the bedroom to the basement sometime in the late '90s. There it sat until recently.
While visiting my mom, she asked me if I could reconfigure the toy chest with a new lid and safer hardware. This way, my two little girls could use it when they came to grandma's house. I made my way into the basement and, with one look, became awash in childhood memories.
From the August 2015 issue