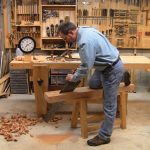 Sawing – and other operations – by the clock.
by Steve Branam
page 64
I recently needed to rip two lengths from a 4′ slab of 12/4 cherry. I use hand tools, so that's a heavy job. Such tasks can be intimidating, keeping you from doing a project.
I don't want to let the prospect of a little grunt work get in the way of enjoying all the rest. Just do it and move on.
Pacing and breaks are important during physically laborious steps like heavy ripping or resawing. I've formalized that by borrowing a technique from physical fitness endurance training.
"Interval training" means doing a timed interval of high-intensity effort, followed by a timed rest period. Another way is to pick a total interval time, do a measured distance at high intensity, then rest for the remainder of the interval. This is extremely effective for building up any endurance activity.
Class: Learn to use hand tools with Steve Branam: classes.popularwoodworking.com.