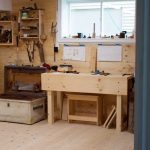 Turning woodworking into a pastime helped me love it again.
by Vic Tesolin
pg. 64
There are two ways I hear the term "hobbyist" thrown around.
The first is by "professional" woodworkers and, more times than not, it is in a disparaging tone: as if a hobbyist couldn't possibly be as good, fast or talented as a pro.
The other way I hear it used is by hobbyists themselves and usually preceded by the words, "I'm just a…."
In either case, I don't understand it.
Just because a person charges money for their woodworking doesn't mean they are any good at it.
You'd be shocked at what non-woodworking patrons will not notice or care about.
To my way of thinking, being a pro woodworker means you are a slave to the grind. I've been there and it isn't always pretty. It's not often you get to do the kind of work that you want, and many times you are left begging to be paid for the work you complete – not to mention all of the other drudgery like bookkeeping, accounting, website upkeep and marketing. All of these tasks need doing, and no one person is good at them all.
When you're a small shop, putting food on the table as a one-person operation can be difficult. Keep in mind that even the most successful furniture makers supplement their incomes with teaching and writing.
Blog:  Visit the author's website.
In Our Store: The Minimalist Woodworker, by Vic Tesolin.
From the October 2016 issue, #227