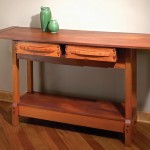 A nervous woodworker is aghast as his best projects arrive from storage.
by David Mathias
page 64
The message "Up" (with a directional arrow, no less) seems unambiguous. When displayed prominently on all four of what should be the vertical surfaces of a crate, the intent of the person who went to the trouble to emblazon that simple message, multiple times, is quite clear: The surface at the business end of all of those little arrows should be, always and forever, the top of the crate. So it is written, so it shall be done. Or so one would think.
We recently relocated for the second time in three years. Because the first move was to Europe, many of our belongings had to go into long-term storage. The rest were packed in a trailer that was then loaded on a cargo ship.
As a woodworker, consider the implications of the previous sentence. Some of the pieces into which I'd poured my heart and soul, and blood, sweat and tears, would be stuck in a storage facility out of my sight and control for years; the rest would cross the ocean in a metal box lacking even the most rudimentary climate control. Oh, what hell is this? Take a kidney, but please don't do that to my furniture.
Twitter: Follow Popular Woodworking Magazine on Twitter.
From February 2014, issue #209