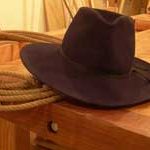 Let function and proportion be your guide when designing a top.
by George Walker
page 20
Growing up, I was never one for wearing hats – that was until fresh out of high school when I headed west to work on a cattle ranch high in the mountains of Montana. My brother looked me over the first day and said, "Where's your hat?" He tossed me a baseball cap emblazoned with a red-and-white checkered Purina Feeds logo. "Tomorrow we go to town and you can pick up your own hat."
Ten hours of being perched on a tractor seat (under a blazing sun and thin mountain air) turned my pasty white Eastern skin lobster red. Needless to say, I was motivated to buy a proper hat the next day and looked at those wide-brimmed cowboy hats with new eyes (not to mention blistered ears).
The Proper Hat for a Cabinet
But what does a hat have to do with designing a top for a cabinet or table? Besides the obvious of topping off the design, it's always a mixture of beauty and function. From a functional standpoint, not just any hat will do (as my ball cap proved). A tabletop or cabinet top is meant to set things on and often needs to shoehorn next to an easy chair.
Early in the process, the overall dimensions of the project are established based on things such as a comfortable height to reach over to set down a mug or a favorite book. Usually at this stage, some general width and depth dimensions are worked up based on the space it must occupy.
Blog: Read more from George R. Walker on his Design Matters blog.
In Our Store: "Unlocking the Secrets of Traditional Design" and "Unlocking the Secrets of Traditional Design: Moldings," George R. Walker's DVDs.
From the December 2014 issue, #215