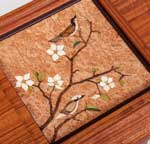 You'll need three drawings, a stack of veneers and a little patience.
by Craig Thibodeau
pgs. 40-46
I've been using marquetry as a way to enhance my custom furniture pieces for a number of years and during that time have developed a series of simple steps that make creating marquetry pictures fairly straightforward. I'll take you through all the necessary steps, from creating the initial drawing to gluing up the cut and sand-shaded marquetry veneer.
Draw First
The first step in creating a marquetry panel is to determine the size of the image. In this case I am making a small panel of birds and flowers for a large piece of furniture. To create initial drawings, I typically search for clear photographs of my chosen subject matter. There are a variety of places where free images can be downloaded and printed; with a home printer or copier, you can scale the images to suit your project size. Once you have the photographs scaled and printed, make a rough pencil sketch showing how you plan to lay out each of the details in your picture. This can be very rough; it's just to give you a good reference for where to place – in this case – the birds, flowers and branches.
Begin tracing the outline of the images you've chosen to use and try to orient them in ways that look realistic. It's not necessary to exactly trace the photos; in many cases you can improve the look of the drawing by making slight adjustments as you progress. This stage can take some time, and typically after completing the initial tracing I'll go back and redraw the entire image several more times, making alterations and improvements along the way.
Once you have a final drawing, make three copies: one for cutting; one for assembly; and one to use as a shading template.
Video: Watch how the author cuts the marquetry for this panel on the scrollsaw.
Video: Watch the author's Puzzle Cabinet video to see how the author used this panel design in a furniture piece (it's astounding!).
Website: Visit ctfinefurniture.com to see more of the author's work.
In Our Store: Watch "Simple Parquetry Techniques" by Don Williams to learn traditional parquetry techniques using hot hide glue.
From the February 2017 issue, #230