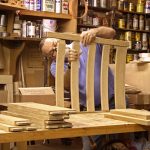 A journey from carpenter to furniture maker to teacher.
By Robert W. Lang
Pages 32-37
Dale Barnard got an early start in woodworking and he paid his dues the old-fashioned way. As a teenager, Dale worked for his father and learned on the job. Apprentices in trim carpentry literally start at the bottom, running baseboard. He had to master that task in closets before he was allowed to work in other rooms.
By the time he graduated high school he was performing finer work, in more visible places, but thought that a career teaching math might be a better choice. A few years later, Dale decided to follow in the family trade, and moved to a rural area in Southeast Indiana.
"When you move to an area like this, you can't be too choosy about the type of work you do," Dale said on a recent visit. "If you want to survive, you need to be willing to do just about anything."
In the early 1980s, Dale and his wife, Mary, purchased 80 acres of wooded land near the small town of Paoli, Ind., moved into a trailer on the property and raised a family while Dale built his shop from salvaged material. In between paying jobs, he worked on his own house, and after a dozen years it was completed; it's a few minutes' walk up the wooded hill from the shop.
Today, the house and shop fit in with the surroundings as if they had always been there, and it seems fitting that Dale's work comes from the heart of a hardwood forest. The scope of his work is as broad as the variety of plants that grow nearby.
There are a lot of small-town carpenters, but it is a field where those with skill, experience and a willingness to produce unusual and high-quality work find themselves being sought out. As Dale's reputation grew, he was attracting clients looking for someone capable of building the best.
Opportunity Knocks
Two important things happened in the early 1990s that enabled Dale to make the leap from small-town carpenter to world-class woodworker. The right client came along at the right time, and Dale launched a web site to market his work beyond the bounds of the Hoosier National Forest.
The client was enamored with the work of California architects Charles and Henry Greene, and could afford to build a house syled after their work. Dale found himself in California, accompanying the clients to look at original examples, then reproducing signature Greene & Greene interior elements, including stairs and cabinets.
Numerous pieces of furniture followed, and Dale absorbed the essence of the originals and found ways to efficiently produce work to that high standard. At heart, he is a problem-solver who can't wrap his head around the idea that there might be something he wouldn't be able to do. When Dale needed stained glass for cabinet doors, he acquired those skills and added them to his repertoire.
Video: Dale Barnard and his work were featured on the HGTV show "Modern Masters."
Web site: At Dale's web site you'll find a class schedule and a gallery of his work.
Article: Dale wrote about his technique for making through-tenons in our June 2010 issue (#183).
Blog: Read about Robert W. Lang's earlier visit to Dale's shop.
From the November 2012 issue #200
Buy this issue now