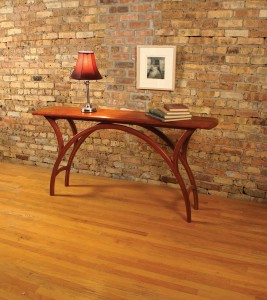 Most of the challenge in making this graceful table is in the prep.
By Jeff Miller
Pages: 32-39
From the December 2011 issue # 194
Buy this issue now
Many interesting pieces of furniture are deceptively simple. Deceptive, because although they appear simple, they are actually very difficult to make. Although this is occasionally true in my own work, that's not the case with the Arch Table, a piece that looks more complicated to make than it actually is. I'm not saying it's easy; there's a lot of preparatory work, and it is quite demanding in terms of shop resources. But the stuff that looks hard to do is actually not all that bad.
BLOG: Read Jeff's design and furniture making blog.
VIDEO: Jeff talks about his table in our free online video.
VIDEO: Watch our free video of Jeff's ellipse jig in action.
IN OUR STORE: "500 Tables: Inspiring Interpretations of Function & Style" by Julie Hale.
From the December 2011 issue #194
Buy this issue now.