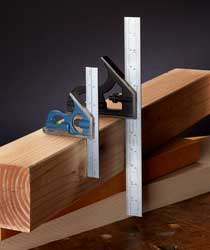 Select a reliable tool with these simple tests. 
by Megan Fitzpatrick
page 62
I can't think of one project I've made that hasn't involved using one or more of my combination squares. I use these to lay out joints and cuts, and to check cuts to confirm that they're square (a test I perform on a scrap piece every time before I use our shop's table saw on actual workpieces).
So when it comes to must-have measuring tools, a reliable 12″ combination square is near the top of my list, and a 6″ version is pretty close behind. And while their scales are unlikely to disagree, they might – so if possible, buy them at the same time. Or, when you get a new one of either, compare and confirm that they match. (It's also a good idea to show the scales on all your measuring devices to one another – ideally, they'll all be exactly the same.)
If you're buying these tools in person, take with you to the store a mechanical pencil and scrap of wood that's at least 6″ wide x 6″ long, with one jointed edge. If you're buying through a catalog or online, cast a critical eye over your new tool or tools as soon as you open the box.
And perhaps it should go without saying, but buy the best combination squares you can afford (and don't for even a second consider one with a plastic head). These are tools that get used a lot; good ones will last and be well worth the cost.
Article: Read our 2005 test of 6″ combination squares
In Our Store: "Measure Twice, Cut Once," by Jim Tolpin (in PDF format).
From the February 2015 issue, #216