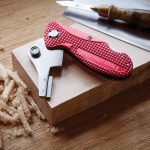 by Christopher Schwarz
page 14
Sometimes a small advance in technology makes an enormous difference in everything. The Chestnut Tools Universal Sharpener – just $18.50 from Lee Valley Tools – will absolutely change the way you sharpen tools.
It looks like a folding pocketknife, but instead of a blade the sharpener has a piece of sub-micron carbide about 1⁄8″ wide and 7⁄8″ long. The carbide has sharp corners, unlike a carbide burnisher. And it's the combination of the incredibly fine carbide and its shape that makes it a game-changer when sharpening.
Website: leevalley.com
Video: See the Universal Sharpener in use on a card scraper.