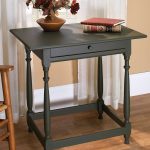 A versatile and durable form from the early South.
by Christopher Schwarz
Pages 38-43
From the April 2012 issue, #196
Early tables such as this one were hardworking. Finished on all sides, they could be placed anywhere in a room in the late 17th and early 18th centuries. They could be used for writing, getting dressed or for any other task required of the household.
This particular table, which is in the collection of the Museum of Early Southern Decorative Arts (commonly called MESDA), straddles the 17th and 18th centuries in its form and its joinery. It looks somewhat like a "joint stool," a typical form of heavy joined furniture in the 16th- and 17th-century household. Yet it has thinner vase-like turnings that are more delicate than an early joint stool, and its drawer has features of both early and later dovetailed drawers.
The original table was painted, yet the surviving example has lost almost all of its paint to time. When I decided to build this piece (approximately 3.2 seconds after seeing it at MESDA), I decided to build it like it was when originally constructed and not distress the wood or the finish. The crisp and new look is a bit arresting to modern eyes, but I think it's like getting a glimpse of the past that few ever get to experience.
Video: See the author peg the top to the base.
Blog: Visit the Chris Schwarz blog at popularwoodworking.com.
PDF: Download a chart of common moulding profiles: VignolaMouldings
In our store:"Furniture in the Southern Style" by Robert W. Lang and Glen D. Huey.
To buy: "The Essential Woodworker" by Robert Wearing.
Web site: Learn about drawboring, an oft-overlooked technique.
Museum: Visit the web site of the Museum of Early Southern Decorative Arts at Old Salem village in Winston-Salem, N.C.
Download the free SketchUp Model of this project
From the April 2012 issue #196.
Buy the issue now.