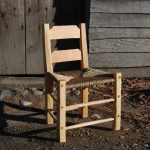 This humble form has a long legacy and modern descendants.
by Peter Follansbee
pages 58-61
In a recent column, I made reference to my initial foray into woodworking as a chairmaker. Post-and-rung, ladderback, slat-back – these chairs have lots of names in various places and in different periods. I learned how to make them at a shaving horse, shaving the parts to generally cylindrical shapes with drawknives and spokeshaves.
Jennie Alexander's book "Make a Chair from a Tree" was the textbook at the time (1978). It mentioned and briefly discussed traditional forms, then went into the how-to of it, with particular attention to the moisture content of the chair's rungs and posts. This was the key to the chair's success; the slightly higher moisture content of the post would eventually drop, leading the post to shrink onto the drier rung. In detail, the rung even picked up moisture; leading to a very tight joint.
She spawned several generations of chairmakers. When I think of how many of these chairs have been made over the years in various workshops, classes, from the book and eventually from the "Make a Chair from a Tree" video, it's amazing.
I went on to focus my work on the reproduction of 17th-century forms, which sometimes included all kinds of chairs. The elaborate and impressive ones are those that usually get attention in museums, private collections and in the antiques market. But for a minute, forget those "great" chairs in inventories, whether they be wainscot chairs, upholstered examples or even the turned chairs such as Governor Bradford's chair at Pilgrim Hall in Plymouth Massachusetts.
Blog: Read Peter Follansbee's blog.
To Buy: "17th-Century New England Carving: Carving the S-Scroll (Lie-Nielsen)."
In Our Store: "The Arts & Mysteries of Hand Tools" on CD
From the June 2015 issue