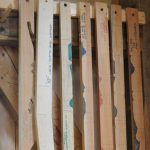 Measured drawings for some, story sticks for me (and others).
by Peter Follansbee
pgs. 58-61
I once had a job making a couple of wainscot chairs and chests for the National Park Service. After barely surviving the paperwork it took to get the job in the first place, I was then confronted with the horrible task of making and submitting measured drawings for each item. "What?" I asked incredulously. "Can't I make those after I build the pieces? It would be easier that way…."
Sounds backward, I know. But I never really learned to work from drawings. I see the beautiful, full-scale drawings students produce when I visit places like the North Bennet Street School or Phil Lowe's Furniture Institute of Massachusetts, and I'm always impressed with the patience and attention to detail they represent. But I lack those attributes, and my approach is more seat-of-the-pants than planned and prepared.
My earliest projects were ladderback chairs, and the way that Jennie Alexander and Drew Langsner taught that craft was with a "stick" instead of a drawing. Sometimes called a "story stick" by carpenters, this single item can contain all the information you need to build your furniture piece.
Ladderback Chairs
It starts with a narrow length of straight, flat wood – just a bit longer than the rear posts of the chair. Mark the location of the mortises for the rungs and the slats, and scribe the height of the front posts. You need to know the diameters of the parts, but that can be a number either in your head or written on the stick. You can record the different lengths of the front, side and rear rungs on the back.
Blog: Read Peter Follansbee's blog.
Article: "The Best Oak Money Can't Buy."
From the October 2016 issue, #227