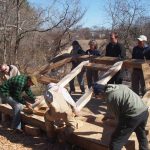 In some contemporary households, 17th-century style storage prevails.
by Peter Follansbee
pages 58-59
I once sold a chair to a woman who later told me how much she loved it. "I never let anyone sit in it!" she exclaimed, apparently to show me how special it was to her.
I told her that was about the worst thing she could say to me.
In my home we use our furniture hard. Stuff the chests 'til they just barely shut – that's our motto. That's where we store our off-season stuff. Our old house has only one proper closet, so we rely on the chests to do their duty. You can fit an extraordinary amount of clothing in these chests.
But another feature, sometimes a curse, of a good joined chest is that the lid is a large expanse of flat space. If it's an oak lid, it's a large, hard-wearing flat space. That means it collects things sitting on its lid. The one shown (below with stuff all over it) is 54″ x 21″. A kid can fit a lot of Legos on that kind of platform. I also usually always store a large box on top of a chest. I avoid putting a small box on top of that – there's a limit even for me. I have seen antiques dealers display them that way. Ugh.
Blog: Read Peter Follansbee's blog.
Article: "The Best Oak Money Can't Buy."