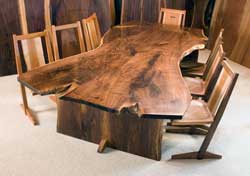 A nearly off-the-grid Montana shop creates a worldwide demand.
by Spike Carlsen
page 53
Walk into Paul Dumond's workshop in Montana and you'll see some unusual things: Slabs of wood the size of pool tables; massive 3-horsepower machines powered by solar panels and 700-pound chunks of salvaged I-beam. You might also find Dumond doing something unusual – like pacing across a 4′ x 20′ redwood tabletop using a floor sander to smooth the slab before finishing. When you're wrestling 2,000-pound slabs of wood in a one-man shop, you get creative fast.
Dumond built the typical stuff typical kids built while growing up in Connecticut – shop-class bookshelves, chess boards and Radio Shack doodads. There were few indications he'd find his home in the world of woodworking.
After earning a degree in accounting at the University of Connecticut, Dumond moved to Montana to work for Champion International, a paper and wood products producer. He began dabbling with building furniture in his spare time, making tables and bookcases for his own place and for a few friends.
"I realized I liked being creative," Dumond said. "But creative accounting can get you in trouble." So after 10 years of pushing paper, Dumond took the plunge into building furniture full time. With the exception of tips and techniques picked up through woodworking magazines and the Internet, Dumond is completely self-taught.
Web site: See more of Paul Dumond's work
To buy: Download plans for a Nakashima-style table 
From the February 2015 issue, #216