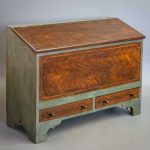 by Joshua Klein
pgs. 50-55
When most people think of period furniture, they think of high-style carving or inlay. This hyper-focus on exceptional examples skews our impression of pre-industrial life. The truth is, very few people lived with that kind of refinement. Far more common were simplified, vernacular representations of forms in vogue in the cities. These pieces were often constructed with commonly available secondary woods and were painted.
Although many were monochromatic, some more exciting examples featured imaginative painted themes and/or artistic representations of exotic wood grain. Some were clearly intended to simulate sophisticated Federal inlay, while the more abstract and bizarre pieces suggest the artist spent a bit too much time working with lead paint. The results can be both startling and charming.
I think craftspeople today are drawn to grain painting because it offers an empowering freedom to follow one's own artistic whimsy. Not bound by run-of-the-mill aesthetics, grain painting is an avenue to embellish our work "according to fancy" (imagination), as one author has put it. Decorative painting is democratic ornamentation, the expressive outlet of the 99 percent.
Blog: Read Christopher Schwarz's blog post about the author's work
Article: Read an online article about milk paint.
In Our Store: Mortise & Tenon Magazine, edited by Joshua Klein.