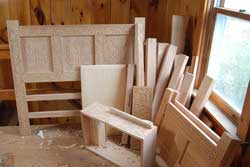 Forget the stockpile of wood; what about the stock of partial projects?
by Peter Follansbee
page 58
When building furniture, some woodworkers keep a stockpile of lumber on hand and draw from their stacks as they begin a new project. Others buy enough lumber (with some extra) for each piece they are planning to build, often working from a list that includes all the pieces in a given project and their rough dimensions. I work in a different way. I start with a log and split out almost every piece of oak that I use at the bench. Starting with the log is a lot of work, but it's even more fun.
When I split open a log, I have an idea of what my needs are, but the log often has ideas of its own. If I have a particularly large diameter, straight-grained example, then I split out and stockpile wide panels for joined work, even if I have no immediate need for panels. This approach usually results in my starting several projects at once, then leapfrogging back and forth between them.
Sometimes there are quite a few pieces underway, usually limited by shop space. When I was preparing to move my shop a year ago, I had a joined chest, a chest with drawers, a chest of drawers, two wainscot chairs, a long table and several joint stools. I finished a carved box in the midst of all these.
Most of those I finished up so I didn't have to move them. Some got stalled (the chest with drawers and the chest of drawers). I've just been back in a shop for two months and have revived those two pieces and made a large box with a drawer. Then the floodgates opened.
Blog: Read Peter Follansbee's blog.
To Buy: "17th-Century New England Carving: Carving the S-Scroll (Lie-Nielsen)."
In Our Store: "The Arts & Mysteries of Hand Tools" on CD
From the April 2015 issue, #217