Getting the four feet of a sawbench, chair or stool all in the same plane is a challenge for some woodworkers. You can end up nibbling a bar stool into an ottoman if you take the wrong approach.
I'm sure there is some way to do this with the power of math, triangles and unicorn poo, but this is how I was taught to do it by chairmaker David Fleming. There is no math. No measuring. And it works every time.
The sawbench shown in the video was a birthday gift from a friend who ran out of time before he leveled the legs. The music is from freeplaymusic.com and is the song "From Little Rock to Glasgow."
— Christopher Schwarz
Want to Make a Sawbench?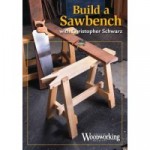 We filmed one of my classes in making a super-handy sawbench using 2 x 6 pine. The DVD is available in our store and is one of our best-sellers: "Build a Sawbench with Christopher Schwarz."