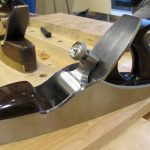 Konrad Sauer improves a 150-year-old handplane design.
by Christopher Schwarz
pages 50-54
From the April 2012 Issue, #196
Let's say you were good at building Chippendale highboys. Really good. Phil-Lowe-kind-of-good at it. Customers came to you regularly and you had plenty of work to keep you busy.
Then why – oh why – would you try to reinvent that highboy?
That's the kind of question that many traditionalists are asking about planemaker Konrad Sauer, who has successfully made a living for more than 10 years as a custom toolmaker. Since Sauer opened his doors for business on Jan. 2, 2001, his bread and butter has been building infill jointer, panel and smoothing planes (plus other traditional forms) that are firmly rooted in the British infill tradition.
While experts would be hard-pressed to say that Sauer's planes look exactly like a Norris, a Spiers or a Mathison, they also could not deny that Sauer has always drawn his inspiration from these classic makers.
So it is with bemusement, amusement and consternation that many traditionalists have watched Sauer build his K13 plane, a tool that owes its design cues more to a turbocharged car than to the Scottish planemaker Spiers of Ayr.
The K13 is low-slung, lightweight and easy to hold. In other words, it is nothing like the upright, dried-out (but beautiful) English-governess style of panel plane that Sauer has been building for more than a decade.
So the question on everyone's lips is: Where did this new K13 plane come from?
"A customer commissioned it," Sauer says over a plate of jerk chicken in his kitchen. "He said he liked the size of panel planes, but that was about it. He said he wanted more wood and less metal. That was it. That's all he asked for."
The idea bounced around inside Sauer's head for some time. Trained as an artist and graphic designer, Sauer always was looking for the thing that would trigger a creative tidal wave. So he kept thinking about the idea, mulling it over as he built other customers' planes (he builds about 35 to 42 planes a year).
"I wanted the plane to look fast," Sauer says. "I wanted it to be modern, but not alien-looking. I wanted it firmly rooted in the infill tradition."
The project was all-consuming, he says. When his wife and two sons decided to go camping during the summer, Sauer intentionally left his sketchbook behind.
"I wanted to take a mental break," he says. But the plane was never far from his mind.
"I started drawing sidewalls on the paper from the kids' apple juice box wrappers," he said. "I was making sketches on cedar shingles. I couldn't stop it."
So the design for the K13 came flooding out of Sauer's fingers on his shop's chalkboard (the initial drawing is still there, next to notes of shop supplies he needs and some phone numbers). He built a prototype out of wood with an aluminum blade to see how it felt in his hands. It felt good.
He decided to build one out of rosewood.
That sounds like an easy decision to make. But when a plane design can take weeks or months to build, it took a bit of courage.
I've always disliked traditional English infill panel planes. I built one years ago, which I sold, and I've owned and used many others during my career in the craft. To my American eyes, British panel planes are too heavy and long to be a smoothing plane, too short to be a good jointer plane and too difficult to hold to even make it worth the effort.
The K13 is a remarkable plane. It is much lighter than an English panel plane. It's a little shorter. Its sidewalls are curved like a smoothing plane. The front bun is low and easy to grip. And yet it has the earmarks of a traditional infill: beautiful wood, beveled sidewalls and solid bedding.
"The tool was a massive challenge," Sauer says. "And my naieveté about the situation really helped. I just jumped in, and the designs came flooding out. I couldn't draw fast enough to keep up with my brain."
In the Backyard
In any case, the K13 is the culmination of more than a decade of hard labor for Sauer, who started out as a hobbyist furniture maker who got swept into a strange vortex that spawned two important Canadian tool-making companies: Shepherd Tool Co. and Sauer & Steiner. These toolmakers started from the same "Big Bang" – they wanted to reverse-engineer a Spiers infill smoothing plane and make it available to the modern woodworker.
Shepherd Tool made a huge splash with its infill plane kits, yet it collapsed in 2006 under its own weight. The company grew incredibly fast but was unable to keep up with customer service and ultimately lost the trust of many woodworkers.
Sauer & Steiner was different. Konrad Sauer and his partner, Joe Steiner, decided to make finished infill planes to the highest standards possible. No kits. They started small and grew slowly. Eventually Steiner left the formal part of the business (though he still does some shows and is a good friend of Sauer's). And while other planemakers emerged and then disappeared, Sauer kept on building planes, raising his standards and raising his prices.
What is his business secret? After observing lots of cottage toolmakers, it's obvious that Sauer knows how to work with customers. He delivers a beautiful plane at a fair price. But if you had to point to one thing that pushes his business ahead of his competitors, it is the wood he uses.
From the very beginning, Sauer has been obsessed with gathering gorgeous exotic woods through sources he's cultivated through both luck and persistence. The two-story shop in his backyard is stuffed with slabs and trunks of species that few woodworkers ever hear of, much less get to use. Yes, there is blackwood, but there is also black-and-white ebony, a crazy species that features swooping grain lines of the deepest black and a pale white. It is so mesmerizing that you forget that it is wood.
In fact, most of the ground floor of his shop is devoted to wood. It is stacked everywhere – against the walls, under the stairs, on top of the table saw. And Sauer knows it all – even the stuff that could never be used for planes. He has, for example, hundreds of 2×2 sticks of rosewood stacked under the stairs to the second floor of his shop.
"There are two things I love the most," Sauer says. "I love grabbing a chunk of wood, and I love figuring out how to make the best use of it in a plane, getting the right color and grain. I am really in this for the wood."
In fact, Sauer loves the wood so much that he refers to the metal in his work as "a weird wood with unusual working properties."
His passion for the material and working with it has taken him to some unusual places outside the toolmaking world lately. He did a project with Japanese calligrapher Norika Maeda, building six lamps for an exhibit at the Warms Spring Gallery in Charlottesville, Va. Sauer made the wooden bases and Maeda made the shades.
"When those opportunities open like a door, I will walk through it," he says.
Sauer says this while standing at a low bench set up for his two young boys. On the bench are a series of unusual wooden laminations – all handplaned. Sauer is making these with his boys as samples for a high-end sushi restaurant. They will be small presentation plates.
And when he has extra time, Sauer improves his old house and makes furniture for it. The front room of his house – a living room and dining room – has a white oak parquet floor that Sauer constructed himself. It's surrounded by banding in contrasting woods and rings the room. Next to the fireplace, he signed the work in the stringing by using dots of Morse code that spell out the family name and the date. All this work in metal and wood happens in the purpose-built two-story shop behind his house.
The Shop Layout
Above his woodworking bench on the first floor, he has woods that you only read about, including perfectly quartersawn rare English brown oak. Thick. In the rough. Desert ironwood. Slabs of curly apple – and this is the stuff he is using for projects outside of planemaking.
This shop area downstairs is where Sauer roughs out the blanks for his planes and his other woodworking projects. Upstairs is where he assembles his planes. The upstairs shop is flooded with natural light from three walls of his shop, including the small deck area where he shoots all the finished handplane photos for his blog.
There are four workbenches up there. One is low for his two young boys. One is compact for traveling to woodworking shows. The third is in a corner and surrounded by moulding planes and chisels – this is where Sauer focuses on woodworking. And the fourth bench is where the metalwork happens. There is a machinist's vise secured to the top and a large anvil directly behind.
The rest of the shop is lined with small machines that Sauer uses for his planes: a couple grinders, a disc sander and a small wood lathe that he rarely uses. While some planemakers will use a metal lathe to turn all the screws and pins for their projects, Sauer prefers to subcontract that work to a machinist and focus on the parts he enjoys the most and does best.
So his lever cap screws are turned by a machinist, his irons come from blade-maker Ron Hock and the rough metal parts for the shells for his planes are shaped by an outfit that uses a water-jet cutter. Sauer files the dovetails in the metal, peens them together, fits the wood infill (the biggest part of the job) and makes all the components sing together.
At the end of the process, he also takes every tool for a test drive.
Though he has built more than 300 planes during the last decade, he always has an anxious moment as he sharpens up the iron, drops it onto the plane's bed and secures it.
"It's always, 'I hope this works,'" Sauer says.
Performance in Perspective
Sauer & Steiner planes always perform at the top of the charts. In fact, some observers are beginning to compare Sauer to Karl Holtey, the perfectionist planemaker in Scotland who goes to incredible lengths to make perfect tools.
While Sauer's planes may not have the deliberate attention to detail that is found in Holtey's work, there is a perfect individuality in Sauer's work that is obvious when you see a group of his planes. They have family traits and all look like they came from the same hand – even the K13.
For Sauer, he is still amazed that he is able to continue to build tools for a living. Even after 10 years, he is waiting for the the other shoe to drop.
"It's either like I retired 10 years ago, or I took a job where I am always working 24 hours a day," Sauer says, standing at a bench with the K13 in hand. "But most days, it's like I retired." PWM
Christopher Schwarz is the editor of Lost Art Press (lostartpress.com) and can be reached at [email protected]
Web sites: Visit Sauer & Steiner's web site and read Konrad Sauer's blog.
Video: Watch our video of Sauer discussing the design of the K13.
Article: Read an early profile of Sauer's work.
In our store: "Handplane Essentials" (Popular Woodworking Books) by Christopher Schwarz, available in both print and a DRM-free digital PDF format.
From the April 2012 issue #196.
Buy the issue now.