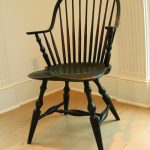 The Windsor form survives trial by fire.
By George R. Walker
Pages 16-18
The blaze started sometime after midnight. A weak spot in the chimney broke and glowing embers spilled out onto dry timbers. By the time the fire crew arrived and strung hoses from a nearby stream, it was all they could do to keep the adjoining barns and outbuildings from burning. A complete loss. The late Nancy Kalin's circa 1810 farmhouse, stuffed with splendid antiques and Americana, was now a pile of charred rubble.
Every piece of furniture in the house was an original period antique with one exception. Ten years earlier Nancy had acquired a graceful 18th-century Rhode Island bowback Windsor chair and had commissioned Richard Grell, an accomplished Windsor chairmaker, to use that example as a model for a set of eight to grace her dining room.
Richard heard about the tragic fire and came by to find the remains of his chairs strewn in the wreckage. They were Windsor-like things, knocked about by the blast of fire hoses, their blackened spindles peeking up through smoldering timbers. Yellow plastic tape cordoned off the site, but a determined Nancy assured Richard she would rebuild as soon as the insurance settlement came through.
It took three years. Those burned Windsor skeletons sat as a bleak reminder of the fire, left naked to the elements in northern Ohio for three frigid winters and three hot summers. They endured a total of 121″ of rain, snow and ice.
Surprising Discovery
The call finally came, and with it a plea to build a new set of chairs just like the old. Richard dropped by to retrieve what was left, in hopes that there were enough clues to bring Nancy's dream back to life. To his astonishment, the undercarriage of one chair remained intact. Curious, he tilted it up on one leg and pushed hard diagonally on the opposite leg, forcing it to rack. It was solid – not a creak, pop or squeak.
The durability of Windsor chairs is legendary, but few people would predict a chair could endure all this and remain solid – unless, that is, they happen to know what Richard Grell knows about Windsor chair design.
Perfecting his Craft
Richard became a full-time chairmaker in 1973 and has spent his adult life building and studying Windsors. This is foreign to our typical modern approach. Today, there is emphasis on creating new forms and novel ideas.
Blog: Read more from George R. Walker.
Web Site: See more of Richard Grell's work, and find out about his chairmaking and finishing classes.
In Our Store: George R. Walker's DVDs: "Unlocking the Secrets of Traditional Design," and "Unlocking the Secrets of Traditional Design: Mouldings."
From the April 2013 issue #203
Buy this issue now