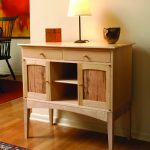 Contemporary details and materials update this classic form.
By Mario Rodriguez
Pages 20-27
Apartments in the Philadelphia area where I live are in demand and rents are high. The same is true for urban areas all over the country. So for someone who insists on living in town, one solution is to "go small." The city sideboard is the perfect piece for tight urban spaces and it's versatile, too. Measuring around 35″ wide and only 16″ deep, it can work as a dining room sideboard, an entry table (with storage) or an office credenza.
The spare design and clean lines of the sideboard suggest an updated Shaker piece, with a bit of a nod to the work of James Krenov. The wood is soft maple, which is a little "warmer" than hard maple and often features subtle curl. The door panels are bookmatched ambrosia maple, a species with unusual colors and grain patterns similar to those found in spalted maple.
The case, partitions and shelves of this piece are of cabinet-grade 3⁄4″-thick maple veneer plywood. This cuts down significantly on labor and construction time without sacrificing appearance. The top, doors and base are solid maple.
The flat-panel doors are installed with offset knife hinges for a clean, modern appearance and feature custom-turned knobs.
Why Plywood?
Cabinet-grade plywood provides a beautiful, uniform and blemish-free surface in a consistent thickness, and it's available as a 48″-wide panel. You just rip your panel width from the sheet and you're good to go. There is, however one problem: What do you do about the exposed plywood edges? I edged much of the case with 3⁄4″-thick solid soft maple, which provided needed protection and covered the unattractive edges. But what is the best way to apply the solid edge with a strong bond and an inconspicuous seam?
After cutting my various plywood panels, partitions and shelves to length, I rummaged through my rough-sawn solid stock to find straight-grained, clean material of a color similar to the plywood. I chose several boards and milled them 3⁄4″ thick, then laid them alongside the plywood to check the color match. By applying denatured alcohol to both, I identified good matches and got a preview of what the color would be on the finished piece.
Blog: Build a "scissors brace" to help square your casework.
Web Site: Take a class at the author's school, the Philadelphia Furniture Workshop.
To Buy: "Building Cabinets, Bookcases and Shelves" a book featuring 29 projects.
From the April 2013 issue #203
Buy this issue now