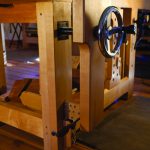 After years of decline, the industry that makes vises and holdfasts for woodworkers has come roaring back.
By Christopher Schwarz
Pages 36-40
In my first book, "Workbenches: From Design & Theory to Construction & Use" (Popular Woodworking Books), I urged fellow woodworkers to "fight progress" and "invent nothing" when it came to designing their workbenches.
Boy, am I glad that the tool manufacturers ignored me completely.
In the last eight years there has been an incredible rebirth in the manufacturing of vises and workholding. We have gone from having almost no choices to having so many that it's agonizing. If you are trying to select the right vises and holdfasts for your new workbench – or you are considering upgrading your equipment – keep reading. We're going to pick apart the latest gear so you can choose what suits your work.
Veritas & Lee Valley Tools
It would be folly to begin this article without discussing Veritas and Lee Valley Tools. Even in the darkest hours of workbench hardware, this Canadian company continued to manufacture and sell quality workbench equipment. Not all of the company's products are home runs, but Veritas makes bench stuff for everyone, from joiners to carvers to people who specialize in bent laminations. Here, in my opinion, are the company's best bench products.
At the top of my list are the Veritas Quick-Release Front Vise and Quick-Release Sliding Tail Vise. These remarkable vises give you the Old World look of a vise with a wooden jaw, yet they give you the modern convenience of quick-release. And, perhaps best of all, these vises don't rack or sag.
If you own a commercial European bench, then you probably have been fighting sagging, racking vises almost the entire time. Racking face vises refuse to hold the work. Sagging tail vises lift it off your benchtop. These Veritas vises are easy to install – like a metal quick-release vise – and can be bolted so they will never droop.
Critics of these vises scoff at the small-diameter screw that these vises use. Don't buy into it. These vises take a beating and stay smooth after thousands of cycles.
The other big winner in the Veritas stable is the venerable Veritas Hold-Down. This is the only surface clamp that works regardless of how thick your benchtop is. These have been around for years. They are expensive but are worth every cent.
As I said earlier, not everything Veritas offers is an undisputed champion. The company has developed a lot of hardware for people who don't want to install a tail vise: the Veritas Wonder Dog, Surface Vise and Inset Vise. These bits of hardware will allow you to quickly add a tail-vise-like mechanism to your bench. The downside to these bits of hardware is they don't work well with thin stock. If you work with stuff that's 3⁄4″ thick or more, they're great. Otherwise, look elsewhere.
Blog: Read "The Kitchen Test" for workbenches.
Blog: Read eight years of articles (free) by the author on workbenches.
Web Site: Visit workbenchdesign.net for bench-building ideas.
To Buy: "The Anarchist's Tool Chest," by Christopher Schwarz.
In Our Store: "The Workbench Design Book."
From the April 2013 issue #203
Buy this issue now