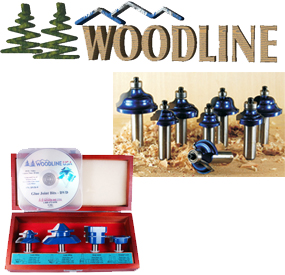 Woodline Joint and Shank Set
8-piece 1/2″ Shank Classical Set – WL-2016: Master craftsmen from the golden age of furniture and architectural design used these shapes for many applications. This collection is sized to finish table edges, drawers, picture frames, cabinet doors and furniture molding. Value: $99. Learn more about this set here.
4-Piece Super-Joint Set: Our glue joint bit is great for making large panels without biscuits, dowels, or dominoes. The drawer lock bit will simplify all your drawer-making needs. Value: $89. Learn more about this set here.